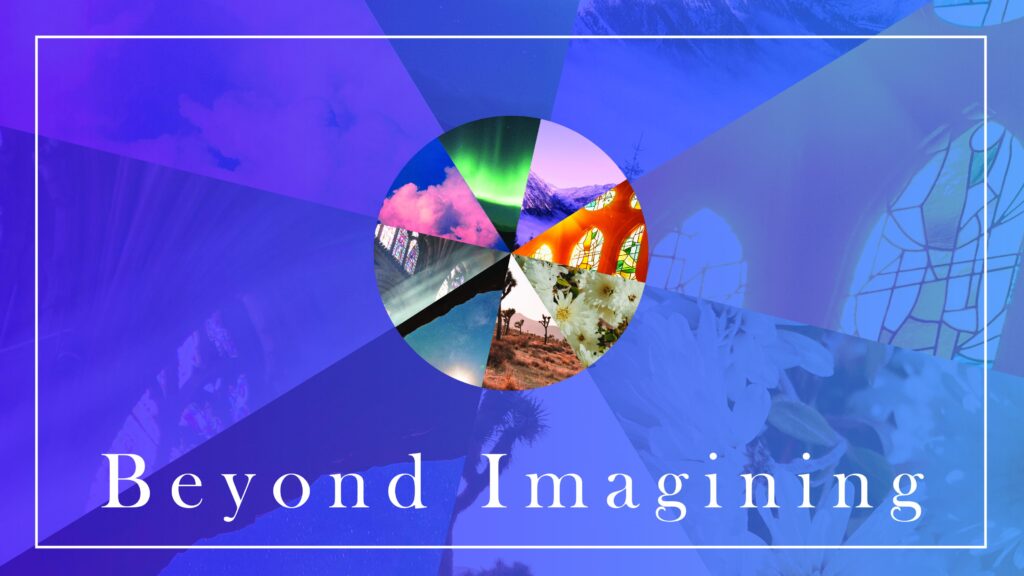 Second Sunday of Advent
Greeting and Announcements
Prelude "My Jesus, I Love Thee" (with "Sleepers Wake") arr. Linda McKechnie
Kathy Ferguson, piano and Janet Tolman, organ
Call to Worship
One: Listen, can you hear it?
All: The voice of one crying out "prepare the way".
One: From church pews to street corners, wild places to city centers,
the cry echoes the words of old:
All: "Blessed be the Lord God, who fulfills our hope with the coming of Emmanuel!"
Hymn of Praise UMH #211 "O Come, O Come, Emmanuel" (vs. 1 & 6) VENI EMMANUEL
1. O come, O come, Emmanuel, and ransom captive Israel
That mourns in lonely exile here, until the Son of God appear
Refrain:
Rejoice! Rejoice! Emmanuel shall come to thee, O Israel.
6. O come, thou dayspring, come and cheer, Our spirits by thy justice here
Disperse the gloomy clouds of night, and death's dark shadows put to flight
Words: Public Domain Music: Public Domain
Reader 1: Our ancient hope has been fulfilled, the cry of God's people was heard. Emmanuel, God with us, came into our world with a message for all:

Reader 2: "The Spirit of the Lord is upon me, because he has anointed me to bring good news to the poor. He has sent me to proclaim release to the captives and recovery of sight to the blind, to let the oppressed go free, to proclaim the year of the Lord's favor."

Reader 1: In this season, suspended between ancient fulfillment and current hope, we hear the words of the past reminding us that God is always responding to us in ways beyond our imagining!

Reader 2: Let us cry out and proclaim, "Prepare the way of the Lord" for our salvation is at hand, our hope shall be fulfilled!

All: We gather together O God, as a people of hope waiting for the dawn from on high to break upon us, kindle our hope so that we might spread your light to all. Amen.
Candle Lighting Hymn TFWS #2236 Gather Us In (vs. 2) THE NATURE OF THE CHURCH
1. We are the young – our lives are a myst'ry, we are the old – who yearn for your face
We have been sung throughout all of hist'ry, called to be light to the whole human race.
Gather us in – the rich and the haughty, gather us in – the proud and the strong;
Give us a heart so meek and so lowly, give us the courage to enter the song.
Words: Marty Haugen, (Matt. 5:13) 1982 Music: Marty Haugen, 1982
Scripture
One: The word of God for the People of God
All: Thanks be to God!
Music of Preparation "The Welcome Table" arr. Joel Raney
The Chancel Choir
Message Beyond Imagining: Beyond Our Past Pastor Beth
Musical Response "Come, Thou Dear Redeemer" Cesar Franck
John Neve, solo
Pastor: Blessed be the Lord our God,
All: For God has looked favorably upon us, and redeemed us!
Pastor: He has raised up a mighty savior for us
All: To give light to those who sit in darkness and in the shadow of death, to guide our feet in the way of peace.
Eternal God, from your spark, your Divine Imagination, a Universe of Wonder, galaxies, stars, worlds, beings, all come into existence. You have placed each person in this world from generation to generation to offer hope and learn love so that we might turn toward each other with compassion and generosity. When our love fails, Your grace holds us tenaciously. Today we praise You for the wonders of your love and come to your table to feast with all creation on your sustaining Grace, and so we sing…
Holy, holy, holy Lord, God of power and might,
heaven and earth are full of your glory. Hosanna in the highest.
Blessed is he who comes in the name of the Lord. Hosanna in the highest.
Holy are you, and blessed is your Son Jesus Christ,
whom you sent in the fullness of time to be a light to the nations.
to give knowledge of salvation to all people and teach us forgiveness and grace. He was, and is Emmanuel, your presence with us.
On the night in which he gave himself up for us, he took bread,
gave thanks to you, broke the bread, gave it to his disciples, and said:
"Take, eat; this is my body which is given for you.
Do this in remembrance of me."
When the supper was over he took the cup,
gave thanks to you, gave it to his disciples, and said:
"Drink from this, all of you; this is my blood of the new covenant,
poured out for you and for many for the forgiveness of sins.
Do this, as often as you drink it, in remembrance of me."
And so, in remembrance of these your mighty acts in Jesus Christ,
we offer ourselves in praise and thanksgiving
as a holy and living sacrifice, in union with Christ's offering for us,
as we proclaim the mystery of faith.
Christ has died; Christ is risen; Christ will come again.
Pour out your Holy Spirit on us gathered here,
and on these gifts of food and drink.
Make them be for us the grace and love of Christ,
that we may be for the world the body of Christ, redeemed.
By your Spirit make us one with Christ,
one with each other, and one in ministry to all the world,
until Christ comes in final victory, and we feast at his heavenly banquet.
Through your Son Jesus Christ, with the Holy Spirit in your holy Church,
all honor and glory is yours, almighty God, now and forever.
Communion Hymn UMH #488 "Jesus, Remember Me" (x2)
(Please eat and drink in remembrance now)
Jesus, remember me when you come into your kingdom.
Jesus, remember me when you come into your kingdom.
Words: Luke 23:42; Music: Jacques Berthier and the Community of Taize, 1981
Our Father, who art in heaven, hallowed be thy name. Thy kingdom come, thy will be done, on earth as it is in heaven. Give us this day our daily bread and forgive us our trespasses as we forgive those who trespass against us, and lead us not into temptation, but deliver us from evil, for thine is the kingdom and the power and the glory forever. Amen.

Sending Hymn UMH #209 "Blessed Be the God of Israel" (vs. 1 & 2) MERLE'S TUNE
1. Blessed be the God of Israel, who comes to set us free,
who visits and redeems us, and grants us liberty.
The prophets spoke of mercy, of freedom and release;
God shall fulfill the promise to bring our people peace.
2. Now from the house of David a child of grace is given;
a Savior comes among us to raise us up to heaven.
Before him goes the herald, forerunner in the way,
the prophet of salvation, the harbinger of day.
Words: Michael Perry, 1973 (Lk. 1:68-79) Music: Hal H. Hopson, 1983
Benediction
We are indeed a people suspended between past fulfillment and future hope, as a people who are being changed by God, let us go into a world hungry for good news to proclaim that freedom is at hand, all shall be saved. Amen.
Postlude "Toccata on VENI EMMANUEL" James Denton