Nature is one of God's beautiful creations.
Through nature, God is able to teach us, speak to us, and provide for us.
Join Christ Church members as we celebrate God's gift of nature
through hiking, biking, camping and outdoor fellowship.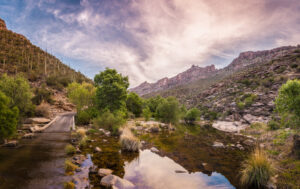 The Outdoor Ministry In Motion: Sabino Canyon Moonlight Walk

The Moonlight Walk is being rescheduled due to the extreme heat.
Stay tuned for an updated date!
Mark your calendars for these upcoming Outdoor Ministry events!
A Patriot Day Walk/Picnic
Sept. 11, 2021 from 9:00 a.m. – 11:00 a.m.
Oct. 9, 2021 from
3:00 – 8:00 p.m.
at the Girl Scouts Hacienda Retreat Center.