Nature is one of God's beautiful creations.
Through nature, God is able to teach us, speak to us, and provide for us.
Join Christ Church members as we celebrate God's gift of nature
through hiking, biking, camping and outdoor fellowship.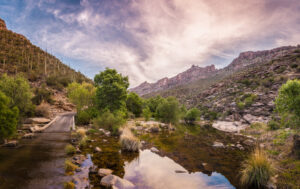 The Outdoor Ministry In Motion: Sabino Canyon Moonlight Walk

Enjoy the beauty of Sabino Canyon in the moonlight as we walk the road
the evening of Saturday, June 19, 2021. We will meet at 8:00 p.m. outside
the Sabino Canyon Visitor Center. Wear comfortable walking shoes,
a wrap if you get chilled, a water bottle(s) and a flashlight.
Contact Tom or Karen Messmore (299-5528) if you have any questions.
A daily pass for entrance is $8 per vehicle. America the Beautiful
and other Interagency passes are accepted.


Mark your calendars for these upcoming Outdoor Ministry events!
A Patriot Day Walk/Picnic
Sept. 11, 2021 from 9:00 a.m. – 11:00 a.m.
Oct. 9, 2021 from
3:00 – 8:00 p.m.
at the Girl Scouts Hacienda Retreat Center.