COVID-19
With the ongoing good news on the COVID-19 front, we are going to make some changes to our guidelines. As with masking ministry and group leaders are encouraged to talk with their participants and make the best decisions based on their needs and vulnerabilities. Please be respectful and continue to follow best practices to keep one another well.
Eating is now permitted on the campus with the following guidelines:
1. The kitchen committee needs time to get into the fellowship and social hall kitchen to ensure organization and cleaning in preparation for use, so we ask for your continued patience as they prepare these spaces for our community!
2. Socially distanced eating outside is permitted with pre-packaged foods or individual meals brought in by participants (such as a sack lunch) or meals/food and beverages that have designated masked and gloved food/beverage servers.
3. Socially distanced eating inside is permitted depending on the group and group leader's preference as long as foods are either pre-packaged or are individual meals brought in by participants (such as a sack lunch) or meals/food and beverages that have designated masked and gloved food/beverage servers.
Masking continues to be recommended but not required and individual group and ministry leaders can make decisions about masking mandates for their groups depending on the event and vulnerability of their participants.
We ask that groups be mindful of participant numbers.
We are no longer asking or being asked to report COVID 19 exposures.
We will continue to provide hand sanitizer, surface wipes, and masks in our primary meeting spaces for folks. Church groups are welcome to request the office to purchase these items if desired.
Of course, if our numbers trend up again or there is another serious outbreak we will reconsider all of these guidelines and respond accordingly. Thank you!
Fellowship Time before Worship
We will be releasing the results of the surveys for everyone to look over in the coming weeks, but one thing we heard loud and clear: we want coffee fellowship back! We are making plans to resume this vital community time in the coming months. If you have a passion for hospitality and want to be involved in relaunching this ministry please contact the office either by calling us at 520-327-1116 or emailing us at office@ccumtucson.org
Fellowship Hall
At long last the Fellowship Hall is once again open – though still under construction. Given current supply and labor shortages, we are on a several-month waiting list with the contractors who will be rebuilding the women's restroom and the storage closet. We are using parts of the main space for storage until the construction is complete. We thank you for your continued patience during this situation.
What can you use?
The elevator is open.
The main space is available on a limited basis.
The men's and family restrooms are open.
All stairways are open.
The Library is open.
Church is Happening
Worship with us weekly using our Worship At Home resource or at our In-Person Worship Services Sundays at 10:00 am


Join one of our online groups

Room 4 You Sunday School Class meets at 8:00am each Sunday by zoom, contact retired UMC Pastor Bob Kuyper at rlkuyper@cox.net for more information.

Morning Cup Fellowship with Pastor Beth meets at 9:00am each Monday by zoom, Join by clicking here.

Men's Breakfast Group meets Wednesdays at 7:30 am by Zoom

Find updates by following the Channel 2.0, subscribe by emailing office@ccumtucsson.org

Need food or other assistance? Contact the office at office@ccumtucson.org

Don't see what you are looking for? Let us know what you need at office@ccumtucson.org

Feeling inspired in the new year to start your own small group for Christ Church using zoom? Let us know how we can help, depending on what you need you can use the CCUMs zoom to lead a group.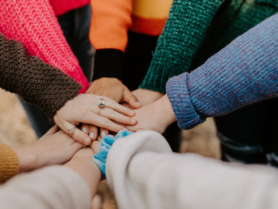 Data and Resources
Christ Church United Methodist is committed to offering a faith centered, science informed, and data driven response to COVID-19.
We are using the following websites to track Pima County's COVID-19 information:
We are using the following websites to inform our decisions and processes.