Church is Happening
Worship with us weekly using our Worship At Home resource or at our In-Person Worship Services Sundays at 10:00 am


Join one of our online groups

Room 4 You Sunday School Class meets at 8:00am each Sunday by zoom, contact retired UMC Pastor Bob Kuyper at rlkuyper@cox.net for more information.

Morning Cup Fellowship with Pastor Beth meets at 9:00am each Monday by zoom, Join by clicking here.
We Make The Road By Walking church wide book study Wednesdays at 6:30pm, Join by clicking here and make sure you order your copy!

Find updates by following the Channel 2.0, subscribe by emailing office@ccumtucsson.org

Need food or other assistance? Contact the office at office@ccumtucson.org

Don't see what you are looking for? Let us know what you need at office@ccumtucson.org

Feeling inspired in the new year to start your own small group for Christ Church using zoom? Let us know how we can help, depending on what you need you can use the CCUMs zoom to lead a group.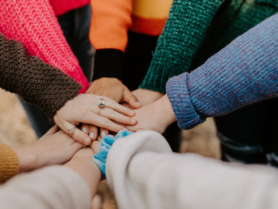 COVID-19 and CCUM
Updated Office Hours
Beginning Tuesday, June 22, the office will re-open to drop-ins during our summer office hours (8:30 a.m. to 4:00 p.m. Monday through Thursday). Only one person will be permitted in the lobby at a time, and the office will not be available as a pass-through to other areas on campus. Face masks will continue to be required while in the office.
Beginning June 6th the following changes will take place
We will be combining our services back into one worship service at 10:00 am

There will be no registration

Distancing will still be encouraged but the sanctuary will be fully open

Masks will continue to be strongly encouraged especially if you have not been vaccinated but it will not be required

Singing will continue

Please be mindful about people's preferences regarding greetings and physical contact

Things that will not change
The service will continue to be 30-40 minutes long

Please do not come if you are feeling ill or have been exposed to someone who is ill

The online and phone-in service will still be provided

No food fellowship or reception events are permitted on campus at this time

Guidance for small groups and ministries will not change including classroom and building occupancy restrictions outside of the sanctuary

All groups are still required to report a COVID-19 exposure to the church office.

Phased shut down and increased restrictions will remain a possibility if there is another surge.

Masks will be required in the office, and each group and ministry will have the power to require or recommend masks based on the needs of that group.



Data and Resources
Christ Church United Methodist is committed to offering a faith centered, science informed, and data driven response to COVID-19.
We are using the following websites to track Pima County's COVID-19 information:
We are using the following websites to inform our decisions and processes.