Please inform the office immediately if you test positive for COVID-19
and have been in service recently.
Church is Happening
Worship with us weekly using our Worship At Home resource or at our In-Person Worship Services Sundays at 10:00 am


Join one of our online groups

Room 4 You Sunday School Class meets at 8:00am each Sunday by zoom, contact retired UMC Pastor Bob Kuyper at rlkuyper@cox.net for more information.

Morning Cup Fellowship with Pastor Beth meets at 9:00am each Monday by zoom, Join by clicking here.

Men's Breakfast Group meets Wednesdays at 7:30 am by Zoom

Find updates by following the Channel 2.0, subscribe by emailing office@ccumtucsson.org

Need food or other assistance? Contact the office at office@ccumtucson.org

Don't see what you are looking for? Let us know what you need at office@ccumtucson.org

Feeling inspired in the new year to start your own small group for Christ Church using zoom? Let us know how we can help, depending on what you need you can use the CCUMs zoom to lead a group.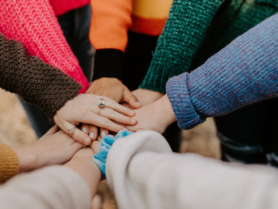 COVID-19 and CCUM
Throughout the pandemic we have had to be a community that is both highly adaptable and flexible, two things that I believe reflect Jesus' own call to discipleship. Our guiding principles have been 1) do no harm, 2) do all the good we can, 3) love God as we love one another and this remains the case as the Omicron variant surges in Pima County. Because of this we have some changes to share with you as we strive to participate in the kingdom work of God during this time.

1. We are not cancelling church! However, if you are not vaccinated or at high risk of severe illness we recommend you engage with us online on Sundays at 10 am. To join our live stream simply go to ccumtucson.org and click on the Access Live Stream worship button.

2. Please do not come if a. you are sick with anything (including a cold), b. you have been exposed to someone with COVID during the last 7 days and cannot get tested, c. you have symptoms of COVID but have tested negative, or you are vulnerable to COVID for any reason. Join us by live stream instead, you can even eat chicken soup while you watch!

3. Please upgrade your mask to a N95, KN95, or KN94: the research on this is conclusive, when worn correctly these masks provide a level of protection that is simply not possible with cloth masks, or surgical masks.

In addition to our COVID mitigation measures of requiring masks indoors, facilitating good hand hygiene and social distancing, some of our in-person ministries are suspending meetings for the time being to help slow the rate of infection. The clothing boutique and food bank are suspending in person operations. The office is going back to "by appointment only", if you need to speak or meet with Pastor Beth, or speak or meet with Skye or Candi, please call or email us. We are asking that if you are on our campus, you wear a mask even if you are outside. We are going to shorten our worship services back to 30 minutes and we are going to suspend congregational singing for the time being.

If you are anything like me you are reading this with disappointment and sadness, not just because we are not able to do the things we love doing together right now but because we are worried about our communities and families. And we know that God will facilitate our ministry and lead our mission as we remain faithful to our guiding principles. We can do this Christ Church and God has got us!

Peace In, Pastor Beth
Data and Resources
Christ Church United Methodist is committed to offering a faith centered, science informed, and data driven response to COVID-19.
We are using the following websites to track Pima County's COVID-19 information:
We are using the following websites to inform our decisions and processes.