Church is Happening
Worship with us weekly using our Worship At Home resource or at our In-Person Worship Services Sundays at 10:00 am


Join one of our online groups

Room 4 You Sunday School Class meets at 8:00am each Sunday by zoom, contact retired UMC Pastor Bob Kuyper at rlkuyper@cox.net for more information.

Morning Cup Fellowship with Pastor Beth meets at 9:00am each Monday by zoom, Join by clicking here.
We Make The Road By Walking church wide book study Wednesdays at 6:30pm, Join by clicking here and make sure you order your copy!

Find updates by following the Channel 2.0, subscribe by emailing office@ccumtucsson.org

Need food or other assistance? Contact the office at office@ccumtucson.org

Don't see what you are looking for? Let us know what you need at office@ccumtucson.org

Feeling inspired in the new year to start your own small group for Christ Church using zoom? Let us know how we can help, depending on what you need you can use the CCUMs zoom to lead a group.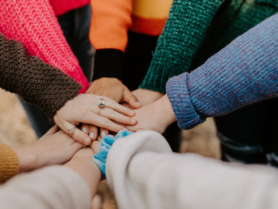 COVID-19 and CCUM
One of the overarching messages of the Gospel of Jesus Christ is that in community, we are all in this together. God uses each person to bring about the Kingdom and expects each of us to respond to one another in ways that demonstrate our fundamental love, respect, and compassion for each other. June 21st was a day of celebration for me; after contracting COVID-19 while at work here at Christ Church, after months of struggling with long COVID, and waiting my turn to get vaccinated, I had finally "earned" the privilege of walking around maskless in my day to day life. I couldn't believe how wonderful it was to go the store, the gym, or greet all of you on a Sunday morning with a smile and no mask. What a joy!
And then the Pima County COVID-19 cases started to grow again and the news was the Delta variant was the dominate strain spreading in Arizona. Instances of fully vaccinated people contracting the Delta variant of COVID-19 started to be reported more frequently. Then, on the 27th of July, the CDC stated that fully vaccinated people should begin masking when in public indoors again where "substantial or high transmission" of COVID-19 is occurring, and friends, as of 7/27/21 that means Pima County.
What this means for Christ Church, is we are reinstating our indoor mask mandate campus wide for all groups, even if they are fully vaccinated. Why? Because the science indicates that even fully vaccinated people can contract, carry and transmit the Delta variant of COVID-19 which means, once again, we are all at risk.
Throughout this pandemic our rule has been "do no harm, do all the good we can, demonstrate our love for God in the way we treat each other." As a church of "people caring for people" we are committed to doing what we can to ensure that we are living into that rule of love. As part of that we all need to put our masks back on. I beg you, do not come to campus if you are not feeling well – that is how I got COVID – someone who didn't feel well (they thought nothing of it at the time) came to the campus, and despite both of us masking and distancing and practicing good hand hygiene, I still got sick. If you test positive for COVID-19 and have been on campus within the last 48 hrs. please contact me at pastor@ccumtucson.org or call the office at 520-327-1116 because we are required to report instances of community exposure to our community and the county. No personal information will be shared but we must report instances of exposure. If you have been exposed to someone with COVID-19, even if you were wearing a mask and fully vaccinated, get tested 3-5 days after exposure. To see all of the CDC's recommendations for fully vaccinated people please visit https://www.cdc.gov/coronavirus/2019-ncov/vaccines/fully-vaccinated-guidance.html
Finally, I know some of you are not able to be vaccinated because of health concerns or deeply held personal and/or faith reasons. As someone who had both COVID-19 and the vaccine side effects, there is no comparison. The vaccine's side effects are nothing like the illness' long term health consequences, it doesn't give you the illness, and it makes all the difference in the long run. Please, we are all in this together. If you can be vaccinated and haven't yet wanted to do so, I ask you to prayerfully consider it. Each person who gets vaccinated gives this virus less of a chance to mutate and circulate. Friends, we will get through this and the more we do now to mitigate this current outbreak, the less likely we are to need to implement even more restrictions like shutting down. Thank you for being in this with one another; together we will make a difference!

Data and Resources
Christ Church United Methodist is committed to offering a faith centered, science informed, and data driven response to COVID-19.
We are using the following websites to track Pima County's COVID-19 information:
We are using the following websites to inform our decisions and processes.