Worship at Home for Sunday, November 1
Welcome
Good morning! Welcome to worship with Christ Church United Methodist in Tucson. I am pastor Beth and today we have a special service of remembrance and communion, we will be celebrating communion together in this worship service and I invite you to take a moment to pause here, collect juice and bread – elements you can eat along with us today as we celebrate our common union in Christ and the abundance of God. Also a word about communion in the United Methodist Tradition, because this is a feast of grace, remembrance, and a celebration of the work of God we believe that the table is open to all, this meal belongs to God and is freely shared with you as a blessing and reminder of God's love, so even if you have never been to a church before, are not a member anywhere, I invite you to participate in this act of love and grace. And now, let us worship together.
Wondrous Love Joyce/Rostash
Rudy & Carole Rostash, clarinets
Call to Worship
Facing mystery, we confront the resurrection. This is the ultimate emancipation from the slavery of sin and death. Today we greet the Mystery that death and life are woven together, two parts of the same existence, one finite and knowable, the other infinite and unknowable. Today we gather with the communion of saints, all those we have loved who have died, we worship God in their midst and declare the Mystery of our faith: "dying, Christ destroyed our death. Rising, Christ restored our life, Christ will come again in glory." And we know that nothing can separate us from those we love, just as nothing can separate us from the love of God in Jesus. Amen.
Opening Hymn UMH 711 For All the Saints (vs. 1 & 2)
1. For all the saints, who from their labors rest,
who thee by faith before the world confessed,
thy name, O Jesus, be forever blest.
Refrain: Alleluia, Alleluia!
2. Thou wast their rock, their fortress, and their might;
thou, Lord, their captain in the well-fought fight;
thou, in the darkness drear, their one true light. [Refrain]
Scripture Reading Exodus 3:1-17
Moses was keeping the flock of his father-in-law Jethro, the priest of Midian; he led his flock beyond the wilderness, and came to Horeb, the mountain of God. There the angel of the Lord appeared to him in a flame of fire out of a bush; he looked, and the bush was blazing, yet it was not consumed. Then Moses said, "I must turn aside and look at this great sight, and see why the bush is not burned up." When the Lord saw that he had turned aside to see, God called to him out of the bush, "Moses, Moses!" And he said, "Here I am." Then he said, "Come no closer! Remove the sandals from your feet, for the place on which you are standing is holy ground." He said further, "I am the God of your father, the God of Abraham, the God of Isaac, and the God of Jacob." And Moses hid his face, for he was afraid to look at God.
Then the Lord said, "I have observed the misery of my people who are in Egypt; I have heard their cry on account of their taskmasters. Indeed, I know their sufferings, and I have come down to deliver them from the Egyptians, and to bring them up out of that land to a good and broad land, a land flowing with milk and honey, to the country of the Canaanites, the Hittites, the Amorites, the Perizzites, the Hivites, and the Jebusites. The cry of the Israelites has now come to me; I have also seen how the Egyptians oppress them. So come, I will send you to Pharaoh to bring my people, the Israelites, out of Egypt."
But Moses said to God, "Who am I that I should go to Pharaoh, and bring the Israelites out of Egypt?" He said, "I will be with you; and this shall be the sign for you that it is I who sent you: when you have brought the people out of Egypt, you shall worship God on this mountain." But Moses said to God, "If I come to the Israelites and say to them, 'The God of your ancestors has sent me to you,' and they ask me, 'What is his name?' what shall I say to them?" God said to Moses, "I AM WHO I AM." He said further, "Thus you shall say to the Israelites, 'I AM has sent me to you.'" God also said to Moses, "Thus you shall say to the Israelites, 'The Lord, the God of your ancestors, the God of Abraham, the God of Isaac, and the God of Jacob, has sent me to you': This is my name forever, and this my title for all generations.
Go and assemble the elders of Israel, and say to them, 'The Lord, the God of your ancestors, the God of Abraham, of Isaac, and of Jacob, has appeared to me, saying: I have given heed to you and to what has been done to you in Egypt. I declare that I will bring you up out of the misery of Egypt, to the land of the Canaanites, the Hittites, the Amorites, the Perizzites, the Hivites, and the Jebusites, a land flowing with milk and honey.'
Scripture Reading Galatians 5:1, 13-15
For freedom Christ has set us free. Stand firm, therefore, and do not submit again to a yoke of slavery. […] For you were called to freedom, brothers and sisters; only do not use your freedom as an opportunity for self-indulgence, but through love become slaves to one another. For the whole law is summed up in a single commandment, "You shall love your neighbor as yourself." If, however, you bite and devour one another, take care that you are not consumed by one another.
Hymn of Preparation In the Desert, on God's Mountain (vs.1, 2, 3)
1. In the desert, on God's mountain, Moses saw the bush aflame,
Wondered at the fiery foliage, heard the crackling call his name.
May we notice bushes burning; may we wonder at the flame
2. On Mount Horeb Moses halted, stood unshod on holy ground,
Felt the pulsing of God's presence, sensed the holiness around.
May we stop amid life's labor; may we honor holy ground.
3. "I AM THAT I AM has called you," spoke the incandescent voice.
Moses felt the message searing to the heart of will and choice.
May we pause to answer summons; may we hear God's burning voice.
Message "Remembering Freedom"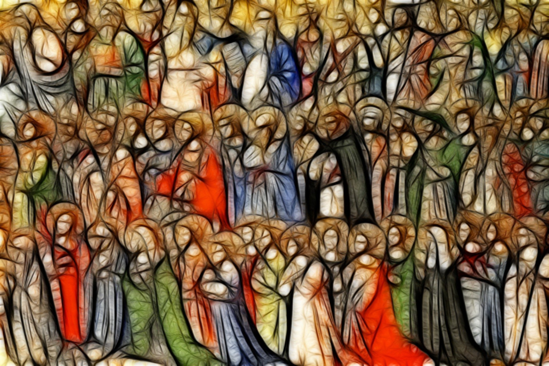 Invitation to Offering
We gather today in the presence of God, connected to one another in this remarkable way, because of the faithful generosity of generations of people. Today we honor those who have gone before us who have made our worship possible. For those who raised us, those who mentored us, for those who taught us, for those who have inspired us, those who have cared for us, and for the God who created us, we give thanks. Our stewardship of all we have is made possible because of all who have been part of shaping us as who we are today. Let us give in thanksgiving for all that we are, amen.
The Welcome Table J. Raney
The Sanctuary Choir (March 15, 2017)
Pastor: The Lord be with you!
All: And also with you!
Pastor: Rejoice for God is here in our midst
All: We celebrate and rejoice in the presence of God!
Pastor: Gathered around this table we celebrate in spirit what You, Living God, have done in our world. You formed us in your image and breathed into us the breath of life. When we turned away, and our love failed, your love remained steadfast. You delivered us from the slavery of sin and death and made covenant with us to be our God.
And so with your people on earth and all the vast communion of saints we praise your name and join their hymn saying together:
Holy, holy, holy Lord, God of power and might, heaven and earth are full of your glory. Hosanna in the highest. Blessed is he who comes in the name of the Lord. Hosanna in the highest.
Holy are you and blessed is your Son Jesus Christ. Your Spirit anointed him to heal the sick, feed the hungry, eat with sinners. By the baptism of his suffering, death, and resurrection, you gave birth to your Church and declared ultimate victory over the grave making a new covenant by water and the Spirit.
It is in the faith of this covenant that we gather around this table of grace, a feast for all people in all times, a declaration that nothing can separate us from your love, not even death. It is in the courage of that remembrance that we pause now to remember before you and one another those who have died this year.
We name now those members of the church who have died this year.
Betty Clapp, Aubrey (Dick) Downey, Wendell Fenn, Darlene Fisher, Terry Gautsch, Les Hathway, Bob Kelch, Claire Parsons, Berta Riley, Louise Rosenbaum, Bob Stauffacher, Wanda Stauffacher, Marianne Whitley
We name those who have been named to us to lift up at this time.
Jean Faber, Betty Sargent Kroncke, Tim Lane, Pete Trujillo
We pause now so that each of you may lift up in this time of silence the names of those we have not shared, who have died this year.
Finally, Holy Comforter, we offer a minute of silence as we light this candle and remember the hundreds of thousands of Americans and the millions of people around the world who have died from Coronavirus this year, remember them O God.
Just as Christ ascended into heaven promising to be with us always, we know that those who have died remain with us as part of your eternal story of salvation, they are with us always in the power of the Spirit.
We remember that on the night before Jesus himself died he gathered his friends around a table to share a meal and took bread, gave thanks to you, broke the bread, and gave it to each saying, "Take and eat, this is God's grace, my own self, which is given for you. Do this in remembrance of me."
When the supper was over, he took the cup, gave thanks to you, gave it to his disciples and said: "Drink from this, all of you; for this is the sign of the new covenant poured out for you and for all for the forgiveness of sins. Do this as often as you drink it in remembrance of me."
And so in remembrance of these your mighty acts in Jesus Christ we offer ourselves in praise and thanksgiving as a holy and living sacrifice, in union with Christ's offering for us, as we proclaim the mystery of faith:
Christ has died; Christ is risen; Christ will come again.
Pour out your Holy Spirit on all of us gathered in this unique way to share this blessed meal and on that vast communion of saints gathered with us in spirit, we ask that you make this food and drink that same grace and love that was given by Christ so that we may be redeemed. By this same spirit make us one with Christ, one with each other no matter where we are, and one in ministry to all the world until Christ comes in final victory and we all feast together.
Through your Son Jesus Christ, with the Holy Spirit as part of your holy Church, all honor and glory is yours almighty Father, now and forever. Amen.
Because there is one God, we who are many, eating in different places are one body for we are all part of the same living God, the drink over which we give thanks is a sharing in covenant for all, as we eat and drink we do so receiving your gifts of grace and love. Amen.
Hymn of Communion UMH 614 For the Bread Which You Have Broken (vs.1 & 3)
1 For the bread which you have broken, for the wine which you have poured,
for the words which you have spoken, now we give you thanks, O Lord.
3 With our sainted ones in glory seated at the heavenly board,
may the church that's waiting for you keep love's tie unbroken, Lord.
And now having been fed by God's love and grace spiritually and physically we come before you in thanksgiving and prayer praying as Jesus taught us:
Our Father
Who art in heaven, hallowed be thy name.  Thy kingdom come, thy will be done, on earth as it is in heaven.  Give us this day our daily bread and forgive us our trespasses as we forgive those who trespass against us, and lead us not into temptation, but deliver us from evil, for thine is the kingdom and the power and the glory forever.   Amen. 
Closing Hymn UMH 127 Guide Me, O Thou Great Jehovah (vs. 1 & 2)
1. Guide me, O thou great Jehovah,
pilgrim through this barren land.
I am weak, but thou art mighty;
hold me with thy powerful hand.
Bread of heaven, bread of heaven,
feed me till I want no more;
feed me till I want no more.
2. Open now the crystal fountain,
whence the healing stream doth flow;
let the fire and cloudy pillar
lead me all my journey through.
Strong deliverer, strong deliverer,
be thou still my strength and shield;
be thou still my strength and shield.
Benediction
Go forth in peace. The grace of the Lord Jesus Christ, the Love of God, and the communion of the Holy Spirit, bless and keep you. Amen.
How Firm a Foundation Joyce/Rostash
Rudy & Carole Rostash, clarinets
CVLI #03793174
CCLI #1239
3PerforMmusic #662