No two paths are the same, no two journeys identical, each step is part of our ever changing experience in a universe of motion. Listen to the call of your heart. Listen to the answer of the world. Then respond with harmony.
The Labyrinths
This week I took an evocative journey through two very different labyrinths. I visited the labyrinth at Unity of Tucson and Vista de la Montaña United Methodist Church. My experiences made me feel that these labyrinths were worlds apart. My overwhelming spiritual revelation from these two journey's was the presence of disorientation. This was a potent reminder that life can sometimes leave us wondering where we are and how to move forward. We can be left wandering.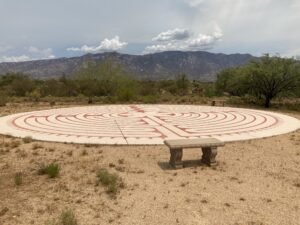 Vista de la Montaña Labyrint
h
,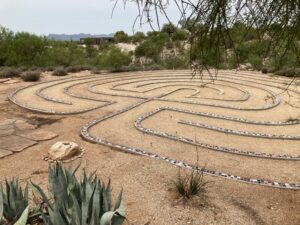 Unity of Tucson Labyrinth
,
The Unity labyrinth is located at the southwest end of their parking-lot close to their buildings. When you turn into their lot, head for the furthest west drive, and then go south toward a large gravel area, and park. There you will see signs for this labyrinth. Vista's labyrinth is located just to the southeast of their main buildings. Again, you will drive all the way to the end of the lot and park facing the Catalina Mountains. Then follow the signs.
Why two? When I finished walking the path at Unity my spirit was restless. God was not done with me so, after a moment of consideration, I decided to do the next one on my list. I am glad I listened to my restlessness.
Getting Lost
"Guide my feet, Lord while I run this race" the familiar words to one of my favorite hymns rose up out of the gravel path to meet me as I walked at Unity, my feet crunching in time to the song. It is a very simple path which weaves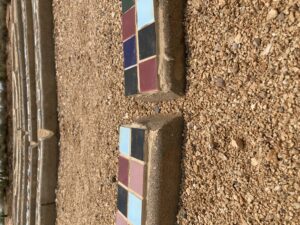 gracefully back and forth in and out. This path is lined not with rocks, but mosaic tiles. Here and there along the way the tile color and pattern shift so that suddenly I felt I had encountered a new path. The center of the Labyrinth is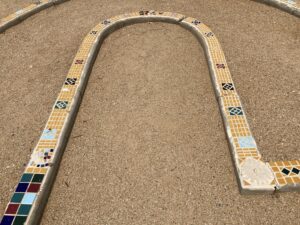 designed to send the walker right back out again. It is a simple straight path with a curved end, a reminder that sometimes the truth we are looking for isn't in the center, it is along the way.
It wasn't until the return journey that I found myself lost in a place designed to prevent getting lost. These are not mazes, they are designed to allow us to take a journey without getting lost! However, I was about half way out, with my mind on other things when suddenly I realized I was sure I was going in the wrong direction. I came to a halt and stood totally still, bewildered. I don't get lost. For most of my life I have had a nearly perfect sense of direction. But here I was with this totally bizarre sensation of being lost in a place where it was impossible to be lost. After all my car was right there. Couldn't I simply step over the edges and get out if I needed? The challenge was I knew exactly where I was, but not what direction I was headed in. Was I going toward or way from the center.
Finding A Way
"Does it matter?" I considered the question. After all, I asked myself, "the point of these is the journey, right?" The song rose up in my mind, "guide my feet while I run this race, for I don't want to run this race in vain." I prayed "God, if getting lost is part of this journey let me be lost with you." Then suddenly, just like last week, I turned a corner and I was walking out of the labyrinth. "So I was going the right way" I told myself, "are you sure?" the quiet question whispered back. So was I supposed to go back to the center? What should I do?
Keep Going
I am giving spiritual advice, not guidance on what to do if you get lost in the wilderness. The spiritual answer was, keep on going. So I drove to the second labyrinth. And there, I found myself even more disoriented. This second labyrinth is located on the North West side of the Catalina's. A totally different part of town than where I had been. The first thing I notices was that it was a paved path. Rather than being gravel outlined with stone or concrete the entire design has been painted on to a poured concrete platform. Also, Vista has built a cathedral labyrinth. This full formal and ancient design is what most people find when they google Labyrinth. Instantly I found myself at the inner part of the labyrinth and once again I felt lost, was I moving in or out, going toward the center or away? This time I remembered the wisdom from before, it doesn't matter. This is the journey.
Gradually my sense of being lost subsided as I allowed this spiritual sense of disorientation to be okay. I thought of all the ways I feel disoriented right now. New job, new working life, new city, new set of expectations, new people. People will ask me, "where are we going, what is the plan" and the truth is, I don't know. I don't know when the church will reopen, I don't know what will happen after November, I don't know how we grieve the people we lose when we cannot be with each other. I just don't know. But what I do know is that God is here in my unknowing, and God is with me in the questions, and God will be there as we move forward.
It Is Okay Not to Know
And then, there it was, the revelation I had been waiting for in the midst of this dislocation. As a pastor I feel pressure to be the one who knows, not because that is expected, but because that is what I expect of myself. I should know, I should be able to answer these questions with more than a shrug. Maybe that is what we are all experiencing right now, the collective pressure to know what is impossible to know. It is okay not to know. It is our spiritual reality as Christians, or seekers, to find ourselves up against the eternal mystery and realize there is no answer, only our questions and our experience. I reached the center of Vista's silent labyrinth and sat down looking at the sky, sitting in this truth. I don't know, no one does, and that is okay, that is faithful. Faith is the willingness to keep going in the face of not knowing the answers. Faith is also the assurance that God is with us in the unknowing. I left this labyrinth knowing that this week would bring more questions I couldn't answer like are we moving the right direction? And, I left assured that the journey is worth it, especially when we don't know.
Amen.