Worship at Home for Sunday, October 4

Welcome to worship with Christ Church United Methodist in Tucson, Arizona.  I am pastor Beth and I want to let you know, whether you are a long-time member of Christ Church, a regular watching worshiper with us, or you just stumbled across us for the first time we welcome you. If you are looking for a way to go deeper in your faith journey, whether you need a prayer and listening partner such as a Stephen minister, or a way to engage your faith in world changing service, Christ Church is here to help, find us online at CCUMTUCSON.org or check us out on Facebook! Now let us worship together.
Prelude
Come, Ye Sinners, Poor and Needy setting by Dale Wood
In the prayers and the praise,
in the words and the wonder:
we are given enough joy to live each day.
In the justice for the oppressed,
in the unexpected generosity for the lost:
we are given enough compassion
to use in service each day.
In the promises made to all,
in the mercy offered to each:
we are given enough grace to share each day.
Opening Hymn UMH 64 Holy, Holy, Holy! Lord God Almighty (vs. 1 & 3)
1
. Holy, holy, holy! Lord God Almighty!
Early in the morning our song shall rise to thee.
Holy, holy, holy! Merciful and mighty,
God in three persons, blessed Trinity!
3. Holy, holy, holy! Though the darkness hide thee,
though the eye of sinful man thy glory may not see,
only thou art holy; there is none beside thee,
perfect in power, in love and purity.
Most Holy God, We are a people who need you in your fullness
— as Creative Father, Redeeming Son, and Sustaining Spirit.
Our lives have complications and pain,
our world has war and despair.
But we were made in your image, and
your Spirit was breathed into us
that we might experience hope in your goodness. We your people are working to hear the words of your Spirit.
Our desire is to learn what and who you are calling us to be in your world.
We call out to you
that we might have the courage
to give to you whatever burdens we entered with today
so that our hearts and minds can be open to you,
to your Word,
and to your Spirit, the same life-giving breath from the first of creation. Amen.
Hymn of Response to Prayer UMH 488 Jesus, Remember Me (2x)
Jesus, remember me, when you come into your kingdom
Jesus, remember me, when you come into your kingdom
Scripture James 4:1-8
Those conflicts and disputes among you, where do they come from? Do they not come from your cravings that are at war within you? You want something and do not have it; so you commit murder. And you covet something and cannot obtain it; so you engage in disputes and conflicts. You do not have, because you do not ask. You ask and do not receive, because you ask wrongly, in order to spend what you get on your pleasures. Adulterers! Do you not know that friendship with the world is enmity with God? Therefore whoever wishes to be a friend of the world becomes an enemy of God. Or do you suppose that it is for nothing that the scripture says, "God yearns jealously for the spirit that he has made to dwell in us"? But he gives all the more grace; therefore it says, "God opposes the proud, but gives grace to the humble." Submit yourselves therefore to God. Resist the devil, and he will flee from you. Draw near to God, and he will draw near to you. Cleanse your hands, you sinners, and purify your hearts, you double-minded.
Scripture Genesis 4:1-17
Now the man knew his wife Eve, and she conceived and bore Cain, saying, "I have produced a man with the help of the LORD." Next she bore his brother Abel. Now Abel was a keeper of sheep, and Cain a tiller of the ground.
In the course of time Cain brought to the LORD an offering of the fruit of the ground, and Abel for his part brought of the firstlings of his flock, their fat portions. And the LORD had regard for Abel and his offering, but for Cain and his offering he had no regard. So Cain was very angry, and his countenance fell.
The LORD said to Cain, "Why are you angry, and why has your countenance fallen? If you do well, will you not be accepted? And if you do not do well, sin is lurking at the door; its desire is for you, but you must master it."
Cain said to his brother Abel, "Let us go out to the field." And when they were in the field, Cain rose up against his brother Abel, and killed him.
Then the LORD said to Cain, "Where is your brother Abel?" He said, "I do not know; am I my brother's keeper?" And the LORD said, "What have you done? Listen; your brother's blood is crying out to me from the ground! And now you are cursed from the ground, which has opened its mouth to receive your brother's blood from your hand. When you till the ground, it will no longer yield to you its strength; you will be a fugitive and a wanderer on the earth."
Cain said to the LORD, "My punishment is greater than I can bear! Today you have driven me away from the soil, and I shall be hidden from your face; I shall be a fugitive and a wanderer on the earth, and anyone who meets me may kill me." Then the LORD said to him, "Not so! Whoever kills Cain will suffer a sevenfold vengeance." And the LORD put a mark on Cain, so that no one who came upon him would kill him.
Then Cain went away from the presence of the LORD, and settled in the land of Nod, east of Eden. Cain knew his wife, and she conceived and bore Enoch; and he built a city, and named it Enoch after his son Enoch.
Scripture Genesis 6:5-8, 7:1-5; 8:1, and 9:7-17
The LORD saw that the wickedness of humankind was great in the earth, and that every inclination of the thoughts of their hearts was only evil continually.
And the LORD was sorry that he had made humankind on the earth, and it grieved him to his heart. So the LORD said, "I will blot out from the earth the human beings I have created—people together with animals and creeping things and birds of the air, for I am sorry that I have made them."
But Noah found favor in the sight of the LORD. […]

Then the LORD said to Noah, "Go into the ark, you and all your household, for I have seen that you alone are righteous before me in this generation. Take with you seven pairs of all clean animals, the male and its mate; and a pair of the animals that are not clean, the male and its mate; and seven pairs of the birds of the air also, male and female, to keep their kind alive on the face of all the earth. For in seven days I will send rain on the earth for forty days and forty nights; and every living thing that I have made I will blot out from the face of the ground."
And Noah did all that the LORD had commanded him. […]

But God remembered Noah and all the wild animals and all the domestic animals that were with him in the ark. And God made a wind blow over the earth, and the waters subsided. […]

And you, be fruitful and multiply, abound on the earth and multiply in it."
Then God said to Noah and to his sons with him, "As for me, I am establishing my covenant with you and your descendants after you, and with every living creature that is with you, the birds, the domestic animals, and every animal of the earth with you, as many as came out of the ark. I establish my covenant with you, that never again shall all flesh be cut off by the waters of a flood, and never again shall there be a flood to destroy the earth."
God said, "This is the sign of the covenant that I make between me and you and every living creature that is with you, for all future generations: I have set my bow in the clouds, and it shall be a sign of the covenant between me and the earth. When I bring clouds over the earth and the bow is seen in the clouds, I will remember my covenant that is between me and you and every living creature of all flesh; and the waters shall never again become a flood to destroy all flesh. When the bow is in the clouds, I will see it and remember the everlasting covenant between God and every living creature of all flesh that is on the earth." God said to Noah, "This is the sign of the covenant that I have established between me and all flesh that is on the earth."
Hymn of Preparation UMH 502 Thy Holy Wings, O Savior (vs. 1 & 2)
1. Thy holy wings, O Savior,
spread gently over me,
and let me rest securely
through good and ill in thee.
Oh, be my strength and portion,
my rock and hiding place,
and let my every moment
be lived within thy grace.
2. Oh, let me nestle near thee,
within thy downy breast
where I will find sweet comfort
and peace within thy nest.
Oh, close thy wings around me
and keep me safely there,
for I am but a newborn
and need thy tender care.
Message: Tapestry of Truths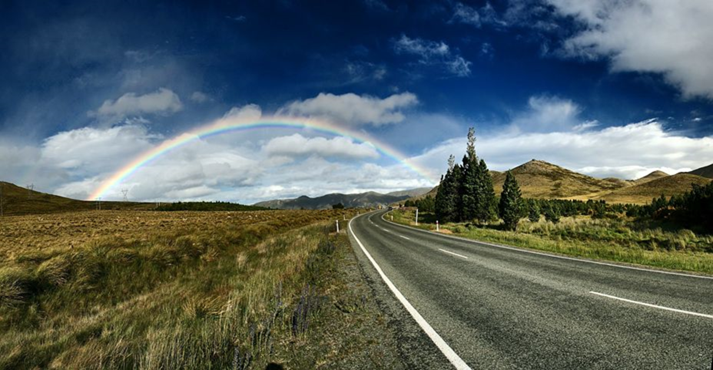 Invitation to Offering
Throughout the month of October, we want to share with you the life changing ministries your gifts, service, and prayers make possible at Christ Church, your giving has made these ministries possible, Thank you! Stephen Ministry is alive and well at CCUM with the ministers continuing to work with their Care Receivers in a confidential one on one basis. In addition, all Stephen Ministers are available to lend a listening ear and to pray with anyone in these most difficult times, if you are looking for someone to walk with you in this time, our Stephen Ministers are here for you, find more information on our website. We give because God has given all we have to us, so that we might share our gifts, praise be to God. Amen.
AS THE DEER with FAIREST LORD JESUS arr. Mark Hayes
Creator God
Who art in heaven, hallowed be thy name.  Thy kingdom come, thy will be done, on earth as it is in heaven.  Give us this day our daily bread and forgive us our sins as we forgive those who sin against us, and lead us not into temptation, but deliver us from evil, for thine is the kingdom and the power and the glory forever.   Amen. 
Closing Hymn TFWS 2170 God Made from One Blood (vs. 1 & 4)

1. God made from one blood all the families of Earth.
The circles of nurture that raised us from birth.
Companions who join us to walk through each stage,
of childhood and youth, adulthood and age.
4. So, give, Lord, each family in conflict and storm,
a sense of Your wisdom and grace that transform.
Sharp anger to insight which strengthens the heart
and makes clear the place where rebuilding can start.
Benediction
May the God of promise fill you with all joy and peace in believing,
so that you may abound in hope by the power of the Holy Spirit. Amen.
When Morning Gilds the Skies setting by Dale Wood
CVLI #03793174
CCLI #1239
3PerforMusic #662