Worship at Home for Sunday, October 11
Welcome
Welcome to worship with Christ Church United Methodist in Tucson, Arizona.  I am pastor Beth and I want to let you know, whether you are a long-time member of Christ Church, a regular watching worshiper with us, or you just stumbled across us for the first time we welcome you. If you are looking for a way to go deeper in your faith journey, whether you need a prayer and listening partner such as a Stephen minister, or a way to engage your faith in world changing service, Christ Church is here to help, find us online at CCUMTUCSON.org or check us out on Facebook! Now let us worship together.
In This Very Room Harris/Bock
Kathy Ferguson, piano; Janet Tolman, organ
Call to Worship – Written by Rev. Daniel B. Randall
We are met in the presence of God
And we do not meet alone.
With the angels in the highest heaven
We gather to worship the Lord.
With Abraham and Sarah
We gather to worship the Lord.
With the saints of every age
We gather to worship the Lord.
We embark on our own journey of faith
God's Holy name be praised.
God makes of us a great people
God's Holy name be praised.
In the desert and in the city, in neighborhood and church
God's Holy name be praised.
We journey in the presence of God.
And we do not journey alone.

Opening Hymn UMH 116 The God of Abraham Praise (vs. 1 & 3)
1. The God of Abraham praise, who reigns enthroned above;
Ancient of Everlasting Days, and God of love;
Jehovah, great I AM! by earth and heaven confessed;
I bow and bless the sacred name forever blest.
3. The heavenly land I see, with peace and plenty blest;
a land of sacred liberty, and endless rest.
There milk and honey flow, and oil and wine abound,
and trees of life forever grow with mercy crowned.
Prayers of the People
Generous God,
you gave us our voices, no two the same.
As you did with Abraham and Sarah,
you take and touch our lives and they can become extraordinary.
And in your Church you have gathered us,
in your community of common folk and complainers,
prophets and puzzled people,
you have called us and made a place for us.
So let what we say and do here,
what we ponder and decide here,
be real for us and honest to you,
as you prepare us for the life of the world in which you are praised. Amen.
~ from Journey of Steadfast Love: Service Prayers for the Second Sunday of Lent, written by the Rev. Daniel B. Randal
Hymn of Response to Prayer UMH 405 Seek Ye First (vs. 1 & 2)
1. Seek ye first the Kingdom of God
And His righteousness
And all these things shall be added unto you
Allelu Alleluia
2. Ask and it shall be given unto you
Seek and ye shall find
Knock and it shall be opened unto you
Allelu Alleluia
Scripture Genesis 12:1-9
Now the Lord said to Abram, 'Go from your country and your kindred and your father's house to the land that I will show you. I will make of you a great nation, and I will bless you, and make your name great, so that you will be a blessing. I will bless those who bless you, and the one who curses you I will curse; and in you all the families of the earth shall be blessed.'
So Abram went, as the Lord had told him; and Lot went with him. Abram was seventy-five years old when he departed from Haran. Abram took his wife Sarai and his brother's son Lot, and all the possessions that they had gathered, and the persons whom they had acquired in Haran; and they set forth to go to the land of Canaan. When they had come to the land of Canaan, Abram passed through the land to the place at Shechem, to the oak of Moreh. At that time the Canaanites were in the land. Then the Lord appeared to Abram, and said, 'To your offspring I will give this land.' So he built there an altar to the Lord, who had appeared to him. From there he moved on to the hill country on the east of Bethel, and pitched his tent, with Bethel on the west and Ai on the east; and there he built an altar to the Lord and invoked the name of the Lord. And Abram journeyed on by stages towards the Negeb.
Scripture Galatians 3:6-9
Just as Abraham 'believed God, and it was reckoned to him as righteousness', so, you see, those who believe are the descendants of Abraham. And the scripture, foreseeing that God would justify the Gentiles by faith, declared the gospel beforehand to Abraham, saying, 'All the Gentiles shall be blessed in you.' For this reason, those who believe are blessed with Abraham who believed.
Then they came to Jerusalem. And he entered the temple and began to drive out those who were selling and those who were buying in the temple, and he overturned the tables of the money changers and the seats of those who sold doves; and he would not allow anyone to carry anything through the temple. He was teaching and saying, "Is it not written,
'My house shall be called a house of prayer for all the nations'?
But you have made it a den of robbers."
And when the chief priests and the scribes heard it, they kept looking for a way to kill him; for they were afraid of him, because the whole crowd was spellbound by his teaching. And when evening came, Jesus and his disciples went out of the city.
Hymn of Preparation UMH 508 Faith, While Trees Are Still in Blossom (vs. 1 ,3, 5)
1. Faith, while trees are still in blossom, plans the picking of the fruit
Faith can feel the thrill of harvest when the buds begin to sprout
3. Long before the rains were coming, Noah went and built an ark.
Abraham, the lonely migrant, saw the light beyond the dark
5. Faith believes that God is faithful: God will be what God will be!
Faith accepts the call, responding, "I am willing, Lord, send me."
Message Blessings on the Way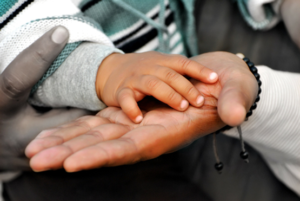 Invitation to Offering
Throughout the month of October, we want to share with you the life changing ministries your gifts, service, and prayers make possible at Christ Church, your giving has made these ministries possible, Thank you!
Music is a central part of our identity as Christ Church, think of the soaring notes of our organ, the stirring anthems of our choir, the solos and songs we share each Sunday, and the sounding of our handbells! Even during this time of physical distancing music is a critical part of our weekly worship and you make this music possible. Your gifts and offerings fund our three music staff positions, our licenses to play this music every Sunday, and the cost of posting this music online, thank you.
We give because God has given all we have to us, so that we might share our gifts, praise be to God. Amen.
Offertory
How Majestic Is Your Name Smit/DeCou
Paula Jameson, solo
Lord's Prayer
Creator God
Who art in heaven, hallowed be thy name.  Thy kingdom come, thy will be done, on earth as it is in heaven.  Give us this day our daily bread and forgive us our sins as we forgive those who sin against us, and lead us not into temptation, but deliver us from evil, for thine is the kingdom and the power and the glory forever.   Amen. 
Closing Hymn TFWS 2008 Let All Things Now Living (vs. 1 & 2)
1. Let all things now living a song of thanksgiving
To God the creator triumphantly raise.
Who fashioned and made us, protected and stayed us,
Who still guides us on to the end of our days.
God's banners are o'er us, God's light goes before us,
A pillar of fire shining forth in the night.
Till shadows have vanished and darkness is banished
As forward we travel from light into light.
2. The law God enforces, the stars in their courses
And sun in its orbit obediently shine;
The hills and the mountains, the rivers and fountains,
The deeps of the ocean proclaim the Divine.
We too should be voicing our love and rejoicing;
With glad adoration a song let us raise
Till all things now living unite in thanksgiving:
"To God in the highest, Hosanna and praise!"
Benediction
May the God of promise fill you with all joy and peace in believing,
so that you may abound in hope by the power of the Holy Spirit. Amen.
Lead On, O King Eternal Smart/Bock
Kathy Ferguson, piano; Janet Tolman, organ
CVLI #03793174
CCLI #1239
3PerforMusic #662