Online Worship for Sunday, July 4, 2021
OL= Online service only, IP= In Person service only
*Please stand as you are comfortable
Welcome (OL)
Welcome to worship with Christ Church United Methodist here in Tucson, Arizona. I am pastor Beth and I am so glad you have joined us today for worship! Today we are celebrating communion, in the United Methodist Church all people are welcome at God's table to share in this feast of love and grace, so take a moment now to pause this video and find something to eat and drink for that part of the service. Remember we are worshiping in person at 10:00am in our sanctuary, we hope to see you there! Now let us worship together.
"Variations on DIX" Robert F. Swift
Greeting and Announcements (IP)
*Call to Worship
One: Creating God has made all for glory and praise
All: Let us celebrate!
One: Redeeming God has set us free to follow and find
All: Let us go and seek.
One: Sustaining God has given all that is needed
All: Let us remember and rejoice!
*Opening Hymn UMH #698 God of the Ages (vs. 1 & 4)
1. God of the ages, whose almighty hand
leads forth in beauty all the starry band
of shining worlds in splendor through the skies,
our grateful songs before thy throne arise.
4. Refresh thy people on their toilsome way;
lead us from night to never-ending day;
fill all our lives with love and grace divine,
and glory, laud, and praise be ever thine.
Words by Daniel C. Roberts and music by George W. Warren in the public domain.
Scripture John 15:9-17, 1 Corinthians 13:1-13, and Revelation 21:3-6 NRSV
One: The word of God for the People of God
All: Thanks be to God!
Hymn of Preparation (OL) UMH #121 There's a Wideness in God's Mercy (vs. 1, 3, & 4)
1 There's a wideness in God's mercy like the wideness of the sea;
there's a kindness in God's justice, which is more than liberty.
3 For the love of God is broader than the measure of our mind;
and the heart of the Eternal is most wonderfully kind.
4 If our love were but more simple, we should rest upon God's word;
and our lives would be illumined by the presence of our Lord.
Words by Frederick W. Faber and music by Lizzie S. Tourjee in the public domain. Harm. by Charles Webb © 1989 The United Methodist Publishing House. Reprinted with permission under CCLI, License #12393. All rights reserved.

Message: Where God Dwells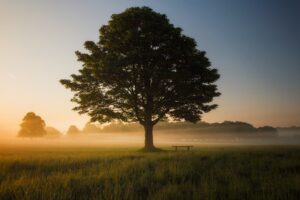 Pastor Beth
Invitation to Offering (OL)
Holy God who both calls us and confronts us: the gifts we bring to you are only a small part of multitude we have received from your goodness. In the depth of our being, we know that in calling us, what you seek is our faith, our belief, our conviction – our very hearts. What you long for from us is not a trip to church but a lifelong journey into the world following Jesus with our whole being. Let us dwell always with you, Amen.

Offertory (OL)
"Blessed Assurance" arr. William Cutter
Paula Jameson, solo
*Communion
Pastor: The Lord be with you.
All: And also with you.
Pastor: Lift up your hearts.
All: We lift them up to the Lord.
Pastor: Let us give thanks to the Lord our God.
All: It is right to give our thanks and praise.
Pastor: It is right, and a good and joyful thing, always and everywhere to give thanks to you, God Almighty, Creator of heaven and earth. You formed us in your image and breathed into us the breath of life. In all places, at all times, in every way you reach out to us declaring your love, offering your grace, seeking our partnership and so we declare together in the words handed down by your people from age to age:
Holy, holy, holy Lord, God of power and might, heaven and earth are full of your glory. Hosanna in the highest. Blessed is he who comes in the name the of the Lord, hosanna in the highest!
We remember as we gather around this table that you came among us in Jesus, declaring nothing would separate us from your love. Jesus gathered around a table with his friends, his disciples, taking bread, giving thanks to you, breaking it, and giving it to us saying "take, eat; this is my body God's grace, which is given for you. Eat this in remembrance of me." And when the supper was over, he took the cup, gave thanks to you, and offered it to us saying "Drink all of you, this is the new covenant poured out for all seeking forgiveness of sins, as often as you drink, drink in remembrance of me." And so we remember and offer ourselves in praise and thanksgiving as a holy and living offering in union with Christ as we proclaim the mystery of faith:
Christ has died; Christ is risen; Christ will come again!
Pour out your holy spirit on us gathered at this table of mystery, and on these gifts of food and drink, make them be for us the grace and love of Christ so that we might live as the body of Christ extending grace to the world. Through your Son Jesus Christ, with the Holy Spirit in your holy Church, all honor and glory is yours, almighty Father, now and forever.
Pastor: Let us eat and drink together as one in the body of Christ, as people forgiven and redeemed by God's love and grace, amen.

Communion Hymn (Please eat and drink in remembrance now)

UMH #618 Let Us Break Bread Together (vs. 1 & 3)
1 Let us break bread together on our knees, (on our knees)
let us break bread together on our knees. (on our knees)
When I fall on my knees with my face to the rising sun,
O Lord, have mercy on me. (on me)
3 Let us praise God together on our knees, (on our knees)
let us praise God together on our knees. (on our knees)
When I fall on my knees with my face to the rising sun,
O Lord, have mercy on me. (on me)
Words and music in the public domain. Adapt. and arr. by William Farley Smith © 1989 The United Methodist Publishing House. Reprinted with permission under CCLI, License #12393. All rights reserved.
Prayer After Receiving
Our Father, who art in heaven, hallowed be thy name.  Thy kingdom come, thy will be done, on earth as it is in heaven.  Give us this day our daily bread and forgive us our trespasses as we forgive those who trespass against us, and lead us not into temptation, but deliver us from evil, for thine is the kingdom and the power and the glory forever.   Amen. 

*Closing Hymn UMH #696 America the Beautiful (vs. 1 & 2)
1. O beautiful for spacious skies, for amber waves of grain;
for purple mountain majesties above the fruited plain!
America! America! God shed his grace on thee,
and crown thy good with brotherhood from sea to shining sea.
2. O beautiful for heroes proved in liberating strife,
who more than self their country loved, and mercy more than life!
America! America! May God thy gold refine,
till all success be nobleness, and every gain divine.
Words by Katharine Lee Bates and music by Samuel A. Ward in the public domain.

Postlude
"The Liberty Bell" Sousa/Linger
CCLI #12393
ONE LICENSE A-738133
CVLI #03793174
PerformMusic #662
Happy 4th of July! Click here to enjoy a concert of patriotic music presented by our organist, Janet Tolman, and friends.