Online Worship for Sunday, July 11, 2021
OL= Online service only, IP= In Person service only
*Please stand as you are comfortable
"Variations on DARWALL'S 148th" Austin C. Lovelace
Greeting and Announcements (IP)
*Call to Worship
One: All Encompassing God;
All: In you all are welcome and equal.
One: Yet humans excel at casting one another down and out.
All: In your community all belong and are blessed by your promise.
One: Yet humans are exceptional at jealousy, fear, and rivalry.
All: God of Love, teach us to see all people as your children; loved, accepted, needed, blessed. Remind us that each person is part of your grace filled work. Amen.
*Opening Hymn (OL) UMH# 116 The God of Abraham Praise (vs. 1 & 4)
1. The God of Abraham praise, who reigns enthroned above;
Ancient of Everlasting Days, and God of love;
Jehovah, great I AM! by earth and heaven confessed;
I bow and bless the sacred name forever blest.
4. The God who reigns on high the great archangels sing,
and "Holy, holy, holy!" cry, "Almighty King!
Who was, and is, the same, and evermore shall be:
Jehovah, Lord, the great I AM, we worship thee!"
Words and music in the public domain.
Scripture Genesis 21:8-21 NRSV
One: The word of God for the People of God
All: Thanks be to God!

Hymn of Preparation (OL) UMH #129 Give to the Winds Thy Fears (vs. 1, 2, & 3)
1. Give to the winds thy fears; hope and be undismayed.
God hears thy sighs and counts thy tears, God shall lift up thy head.
2. Through waves and clouds and storms, God gently clears thy way;
wait thou God's time; so shall this night soon end in joyous day.
3. Leave to God's sovereign sway to choose and to command;
so shalt thou, wondering, own that way, how wise, how strong this hand.
Words by Paul Gerhardt, trans. by John Wesley, and music by William H. Walter in the public domain.
Message: Everyday Heroes: Those Cast Out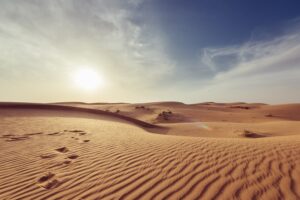 Invitation to Offering (OL)
God of Isaac and Ismael, God of Sara and Hagar. We are quick to judge and slow to understand. We are good at seeing differences, and we struggle to understand those differences as blessings. You bless all, call all, and use all people in extending your promise. Use these, our gifts, to make us a community that draws in, extends out, and welcomes all because our differences are blessings from you. Amen.
Offertory (OL)
"Nimrod" Edward Elgar
Lord's Prayer
Our Father, who art in heaven, hallowed be thy name.  Thy kingdom come, thy will be done, on earth as it is in heaven.  Give us this day our daily bread and forgive us our trespasses as we forgive those who trespass against us, and lead us not into temptation, but deliver us from evil, for thine is the kingdom and the power and the glory forever.   Amen. 
*Closing Hymn UMH #140 Great is thy Faithfulness (vs. 1 & 3)
1 Great is thy faithfulness, O God my Father;
there is no shadow of turning with thee;
thou changest not, thy compassions, they fail not;
as thou hast been, thou forever wilt be.
Refrain: Great is thy faithfulness!
Great is thy faithfulness!
Morning by morning new mercies I see;
all I have needed thy hand hath provided;
great is thy faithfulness, Lord, unto me!
3 Pardon for sin and a peace that endureth,
thine own dear presence to cheer and to guide;
strength for today and bright hope for tomorrow,
blessings all mine, with ten thousand beside! Refrain
Words by Thomas O. Chisholm and music by William M. Runyan in the public domain.
Postlude
"Toccata No. 4" (HOLY MANNA) Joel Raney
CCLI #12393
ONE LICENSE A-738133
CVLI #03793174
PerformMusic #662