Worship at Home for Sunday, January 3, 2021
Welcome
Welcome to worship with Christ Church United Methodist in Tucson. I am pastor Beth and I am so glad you have joined us today for worship! What a beautiful way to start of a new year. We recorded this communion on Dec. 6th, and we will be using it today in our service of communion, remember in the United Methodist Church all people are welcome at God's table and take a moment now to pause our video and find something to eat and drink for that part of the service. Maybe getting more involved in church is one of your new year resolutions, if so find all the different ways to connect to the ministries of the church online at CCUMtucson.org. And now, let us worship together.
Prelude
Fugue and Harmonization on ST. ANNE Hal H. Hopson
Call to Worship
A new year has begun, are we ready? Are we ready to set aside those things which we confuse as treasure? Are we ready to step out on faith? Are we ready to forgive? Are we ready to release our doubts and fears? Let us be a people ready to embrace the turning of time and welcome the new year as we praise and say: O Lord, how majestic if your name in all the earth! We are yours and we are ready!
Opening Hymn UMH #117 O God, Our Help in Ages Past (st. 1 & 4)
1. O God, our help in ages past, our hope for years to come,
our shelter from the stormy blast, and our eternal home!
4. A thousand ages, in thy sight, are like an evening gone;
short as the watch that ends the night, before the rising sun.
(words and music in public domain)
Scripture Ecclesiastes 3:1-11, 15 and Luke 12:15-34 (NRSV)
Hymn of Preparation UMH #383 This Is a Day of New Beginnings (st. 1, 3, 5)
1 This is a day of new beginnings, time to remember and move on,
time to believe what love is bringing, laying to rest the pain that's gone.
3 Then let us, with the Spirit's daring, step from the past and leave behind
our disappointment, guilt, and grieving, seeking new paths, and sure to find.
5 In faith we'll gather round the table to taste and share what love can do.
This is a day of new beginnings; our God is making all things new.
Message Time and Treasure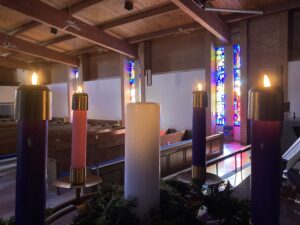 Invitation to Offering
Holy God and Parent of us all: we have moved through this season of vision and dreams to Christmas, and we are reminded that beyond our earthly sight, you have given us a vision of you that transforms the world. Through the saving, redeeming work of the Incarnation, we have become heirs of your dream, and our redemption is the magnificent gift of our vision for salvation. We give our gifts, and we give ourselves as the only fitting response to your adoption of us. Lead us in your way into this new year. In Jesus' name, we pray. Amen.
Offertory
Great Is Thy Faithfulness arr. Janet P. Tolman


Communion for Christmas
One: O come, o come Emmanuel,
All: And in our heart teach peace to dwell!
One: We are your people waiting and hoping in this Advent time
All: We lift our hearts up to you in love and thanksgiving
One: We give our thanks to you Emmanuel, God with us, for you entered into time so that you might know our birth, our lives, our heartbreaks, our joys, and even our death. You have come among us as a reminder of your steadfast love that delivers us each moment to the new possibilities of life in your Spirit.
And so we praise your name and join the unending hymn saying:
Wonderful Counselor, Mighty God, Prince of Peace, from everlasting to everlasting the stars and earth declare your glory, blessed are we for you have looked upon us with favor and called us to be your people.
You came among us through your Son Jesus Christ, so that the hungry are fed, the lost are found, and the world might know your love. By his birth you remind us to seek you in unexpected places, by his life you remind us that you meet us in the stranger, by his death you remind us that you are with us always, and by his resurrection we remember that there is no death in you.
On that night when Jesus ate his final meal among his friends, gathered together and waiting as we wait now, he took bread, gave thanks to you, broke the bread, gave it to his disciples and said: "take eat, this is my self given for you"
Each time we eat it is in remembrance of you, dear Teacher
When the supper was over Jesus took the cup, gave thanks to his disciples, and said: "Drink from this, all of you, this is my love, the cup of the new covenant poured out for all for the forgiveness of sins"
Each time we drink it is in remembrance of you, dear Redeemer
We feast together in remembrance of God's mighty acts and we offer our own lives in praise and thanksgiving that we might be the peacemakers and hope bringers of the gospel's ancient mystery of faith
Christ has died; Christ is risen; Christ will come again.
Pour out your Holy Spirit on us gathered here and on these gifts of bread and cup, make them be for us the essence and love of Christ that we might embody for the world the compassion of Christ to all.
By your Spirit make us one with Christ, one with each other, and one in ministry to all the world so that one day we may all feast together in the Kingdom of God.
In the name of the Eternal Creator, Redeemer, and Sustainer,
Amen.
Receiving the Elements at this time you are welcome to eat and drink knowing that we share this meal together in spirit.
Let us eat and drink together now, knowing that though we are many, we are united in the sharing of this meal. Amen.
Communion Hymn UMH 624 Bread of the World (st. 1 & 2)
1. Bread of the world in mercy broken,
wine of the soul in mercy shed,
by whom the words of life were spoken,
and in whose death our sins are dead:
2. Look on the heart by sorrow broken,
look on the tears by sinners shed;
and be thy feast to us the token
that by thy grace our souls are fed.
(words and music in the public domain)
Prayer after Receiving
Our Father, who art in heaven, hallowed be thy name.  Thy kingdom come, thy will be done, on earth as it is in heaven.  Give us this day our daily bread and forgive us our trespasses as we forgive those who trespass against us, and lead us not into temptation, but deliver us from evil, for thine is the kingdom and the power and the glory forever.   Amen. 
Closing Hymn UMH#707 Hymn of Promise (st. 1 & 2) CCLI Song #126529
1 In the bulb there is a flower; in the seed, an apple tree;
in cocoons, a hidden promise: butterflies will soon be free!
In the cold and snow of winter there's a spring that waits to be,
unrevealed until its season, something God alone can see.
2 There's a song in every silence, seeking word and melody;
there's a dawn in every darkness bringing hope to you and me.
From the past will come the future; what it holds, a mystery,
unrevealed until its season, something God alone can see.
Benediction
The Word has become flesh and dwelt among us. Let Christ's light shine in the darkest corner of your life. Let Christ's love shine in the darkest corners of our world. God is with us. Alleluia. Amen.
Postlude
Toccata on ST. ANNE Gordon Young
CVLI #03793174
CCLI #1239
3PerforMmusic #662