Worship at Home for Sunday, August 30
Announcements
Welcome to worship with Christ Church United Methodist in Tucson, Arizona.  I am Pastor Beth, and I want to invite you to participate with us online at our website, www.ccumtucson.org, and on Facebook at https://www.facebook.com/CCUM.Tucson.
Prelude
Grace arr. Mark Hayes
Grant Lange, vocal & trumpet
Call to Worship
An adventure has begun; we are invited to walk together!
Our story is one of wandering in wild hope and pondering potent promise on this walk together.
God's salvation meets us in Christ as we learn to walk together.
So let us together walk this road for the spirit calls us to adventure.
Hymn of Praise UMH 154 All Hail the Power of Jesus' Name (vs. 1 & 6)
1. All hail the power of Jesus' name!
Let angels prostrate fall;
bring forth the royal diadem,
and crown him Lord of all.
Bring forth the royal diadem,
and crown him Lord of all.
6. O that with yonder sacred throng
we at his feet may fall!
We'll join the everlasting song,
and crown him Lord of all.
We'll join the everlasting song,
and crown him Lord of all.
O God, we enjoy your company, as we walk together. Break open our ways of knowing and give us the gift of revelation so that we recognize you when you appear before us, suddenly, unexpectedly, in quiet moments of questioning, in conversation with others, in learning, in sharing a meal together, and when you meet us in all your glory.
Jesus Christ, stay with us in every part of our journey no matter how full of doubt or fear we may be, no matter the terrain of grief that unfolds in our hearts, be our comforting companion teaching compassion, leading in love, guiding us toward one another.
Through your Holy Spirit, we pray that you will open our eyes, our hearts, and our lives to see you as our risen Savior in all your beauty, in all your possibility, in all your world changing power. Amen.
Hymn of Prayer TFWS 2086 Open Our Eyes
Open our eyes, Lord
We want to see Jesus.
To reach out and touch Him
And say that we love Him
Open our ears, Lord
And help us to listen
Open our eyes, Lord
We want to see Jesus
Scripture Luke 24:13-35
Now on that same day two of them were going to a village called Emmaus, about seven miles from Jerusalem, and talking with each other about all these things that had happened. While they were talking and discussing, Jesus himself came near and went with them, but their eyes were kept from recognizing him. And he said to them, "What are you discussing with each other while you walk along?" They stood still, looking sad. Then one of them, whose name was Cleopas, answered him, "Are you the only stranger in Jerusalem who does not know the things that have taken place there in these days?" He asked them, "What things?" They replied, "The things about Jesus of Nazareth, who was a prophet mighty in deed and word before God and all the people, and how our chief priests and leaders handed him over to be condemned to death and crucified him. But we had hoped that he was the one to redeem Israel. Yes, and besides all this, it is now the third day since these things took place. Moreover, some women of our group astounded us. They were at the tomb early this morning, and when they did not find his body there, they came back and told us that they had indeed seen a vision of angels who said that he was alive. Some of those who were with us went to the tomb and found it just as the women had said; but they did not see him."
Then he said to them, "Oh, how foolish you are, and how slow of heart to believe all that the prophets have declared! Was it not necessary that the Messiah should suffer these things and then enter into his glory?" Then beginning with Moses and all the prophets, he interpreted to them the things about himself in all the scriptures. As they came near the village to which they were going, he walked ahead as if he were going on. But they urged him strongly, saying, "Stay with us, because it is almost evening and the day is now nearly over." So he went in to stay with them. When he was at the table with them, he took bread, blessed and broke it, and gave it to them. Then their eyes were opened, and they recognized him; and he vanished from their sight. They said to each other, "Were not our hearts burning within us while he was talking to us on the road, while he was opening the scriptures to us?" That same hour they got up and returned to Jerusalem; and they found the eleven and their companions gathered together. They were saying, "The Lord has risen indeed, and he has appeared to Simon!" Then they told what had happened on the road, and how he had been made known to them in the breaking of the bread.
Hymn of Preparation UMH 454 Open My Eyes, That I May See (vs. 1 & 3)
1. Open my eyes, that I may see
glimpses of truth thou hast for me;
place in my hands the wonderful key
that shall unclasp and set me free.
Silently now I wait for thee,
ready, my God, thy will to see.
Open my eyes, illumine me, Spirit divine!
3. Open my mouth, and let me bear
gladly the warm truth everywhere;
open my heart and let me prepare
love with thy children thus to share.
Silently now I wait for thee,
ready, my God, thy will to see.
Open my heart, illumine me, Spirit divine!
Message "The Spiritual Value of Wandering"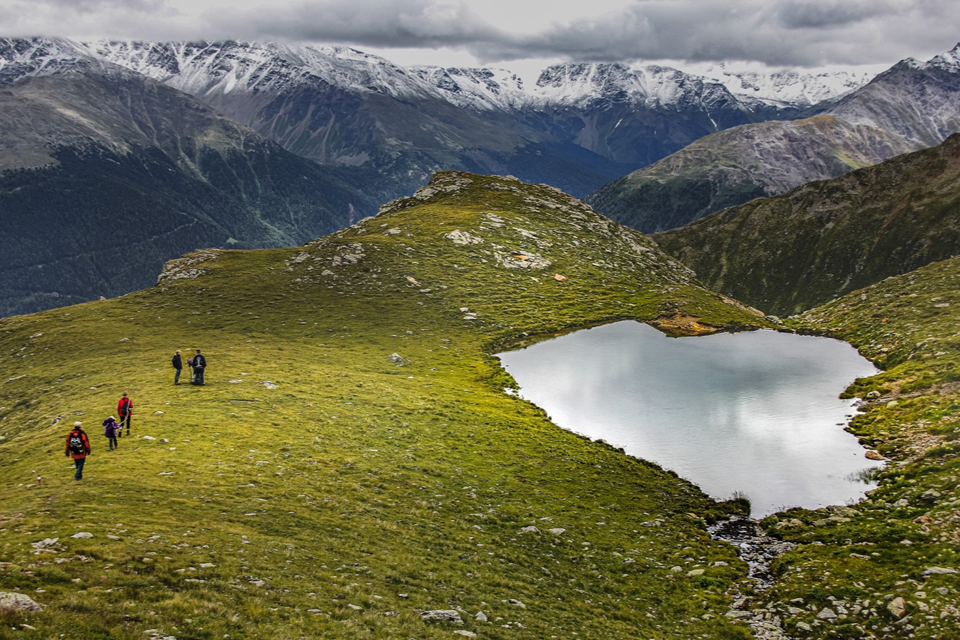 Our Gifts and Offerings
The body of Christ is alive and well and Christ Church is engaging in mission and outreach even in this time of physical distancing. There are so many ways we give; through our prayers for each other, our calls to one another, the ministries we engage, and the gifts we offer God and the church. God, we give you thanks for the ways you call us to give, and in this time of offering bless our gifts, our intentions, and all the ministries we offer to you today! Amen.
Swing Low arr. Dick Anthony
Grant Lange, trumpet
Lord's Prayer
Our Father,
Who art in heaven, hallowed be thy name.  Thy kingdom come, thy will be done, on earth as it is in heaven.  Give us this day our daily bread and forgive us our sins as we forgive those who sin against us, and lead us not into temptation, but deliver us from evil, for thine is the kingdom and the power and the glory forever.   Amen. 
Sending Hymn TFWS 2196 We Walk by Faith (vs. 1, 2, 3)
1. We walk by faith, and not by sight;
with gracious words we hear
of him who spoke as none e'er spoke,
but we believe him near.
2. We may not touch his hands and side,
nor follow where he trod;
yet in his promise we rejoice,
and cry, "My Lord and God!"
3. Help then, O Lord, our unbelief,
and may our faith abound;
to call on you when you are near,
and seek where you are found: 
Benediction 
May the Lord bless you and keep you, may the Lord make is his face to shine upon you and be gracious unto you, may the Lord lift up his countenance upon you and give you peace.  Amen. 
Postlude
Fowler's March by William P. Rownan
CVLI #03793174
CCLI #1239
3PerforMusic #662