Worship at Home for Sunday, August 16
Welcome to worship with Christ Church United Methodist in Tucson, Arizona. I am pastor Beth and if you are joining us for the first time, I hope you will take a moment to let us know who you are and where you are joining us from. If you are watching us with YouTube take a moment to visit our website at ccumtucson.org and click the welcome button on the home screen and say hello! If you are watching us on our website, take a moment to click the welcome button below this video. Also, if you are looking for a way to go deeper with this message and journey further, join us at ccumtucson.org/interact/
Prelude
My Faith Looks Up to Thee arr. Linda McKechnie
Kathy Ferguson, piano; Janet Tolman, organ
Greeting
As we begin this time together take a time to prepare your space to encounter God both within and around you. And now, let us worship together by joining together sing or enjoy listening to our opening hymn I'll Praise My Maker While I've Breath!
Hymn of Praise UMH 60 I'll Praise My Maker While I've Breath (vs 1 and 3)
1. I'll praise my Maker while I've breath;
and when my voice is lost in death,
praise shall employ my nobler powers.
My days of praise shall ne'er be past,
while life, and thought, and being last,
or immortality endures.
3. The Lord pours eyesight on the blind;
the Lord supports the fainting mind
and sends the laboring conscience peace.
God helps the stranger in distress,
the widow and the fatherless,
and grants the prisoner sweet release.
Collect
God along the way:
Day by day we meet you,
In each other we greet you,
Through our acts we treat you,
By our lives we seek you,
God, guide us all along the way.
Call to Prayer Hymn  UHM 358 Dear Lord and Father of Mankind Rest (vs. 4)
4. Drop thy still dews of quietness, till all our strivings cease;
take from our souls the strain and stress, and let our ordered lives confess the beauty of thy peace.
Prayers of the People
God of Moses, we are a people who know the promised land and a people who know the wandering way. Our prayers and praises shape our landscape, we map out our hearts before you, hear us in our prayers.
Take a time to offer God your praises and joys. 
God our Guide, hear our prayers. 
Jesus mapmaker of our hearts, you always charted new ways to meet people in need, refreshed old routs of righteousness, guide us to comfort and compassion as we raise these prayers for others.
Take a time to offer God concerns and prayer requests for any in need and suffering. 
God our Guide, hear our prayers. 
Holy Spirit, unbound from all known paths and roads, you call and lead us to people and places we cannot imagine, we offer to you these prayers for the billions of others only you know, that we may be like you – an Advocate for any in need.

Take a time to offer God prayers for our communities, cities, nations, neighbors, and world, then take time to listen to what God offers back to you. 
God our Guide, hear our prayers. 

Blessed Trinity, guide us now in these times of confusion and uncertainty, remind us of those who have wandered before us, so that we might wonder in faith and respond to your leading. Amen.

Scripture Deuteronomy 10:10-22
I stayed on the mountain forty days and forty nights, as I had done the first time. And once again the Lord listened to me. The Lord was unwilling to destroy you. The Lord said to me, "Get up, go on your journey at the head of the people, that they may go in and occupy the land that I swore to their ancestors to give them."
So now, O Israel, what does the Lord your God require of you? Only to fear the Lord your God, to walk in all his ways, to love him, to serve the Lord your God with all your heart and with all your soul, and to keep the commandments of the Lord your God and his decrees that I am commanding you today, for your own well-being. Although heaven and the heaven of heavens belong to the Lord your God, the earth with all that is in it, yet the Lord set his heart in love on your ancestors alone and chose you, their descendants after them, out of all the peoples, as it is today. Circumcise, then, the foreskin of your heart, and do not be stubborn any longer. For the Lord your God is God of gods and Lord of lords, the great God, mighty and awesome, who is not partial and takes no bribe, who executes justice for the orphan and the widow, and who loves the strangers, providing them food and clothing. You shall also love the stranger, for you were strangers in the land of Egypt. You shall fear the Lord your God; him alone you shall worship; to him you shall hold fast, and by his name you shall swear. He is your praise; he is your God, who has done for you these great and awesome things that your own eyes have seen. Your ancestors went down to Egypt seventy persons; and now the Lord your God has made you as numerous as the stars in heaven.
Hymn of Preparation UMH 140 Great Is Thy Faithfulness (vs. 1 and 3)
1. Great is thy faithfulness, O God my Father; there is no shadow of turning with thee; thou changest not, thy compassions, they fail not; as thou hast been, thou forever wilt be. Great Is thy faithfulness!
Refrain: Great is thy faithfulness! Morning by morning new mercies I see; all I have needed thy hand hath provided; great is thy faithfulness, Lord, unto me!
3. Pardon for sin and a peace that endureth, thine own dear presence to cheer and to guide; strength for today and bright hope for tomorrow, blessings all mine, with ten thousand beside!
Message "X Marks the Spot"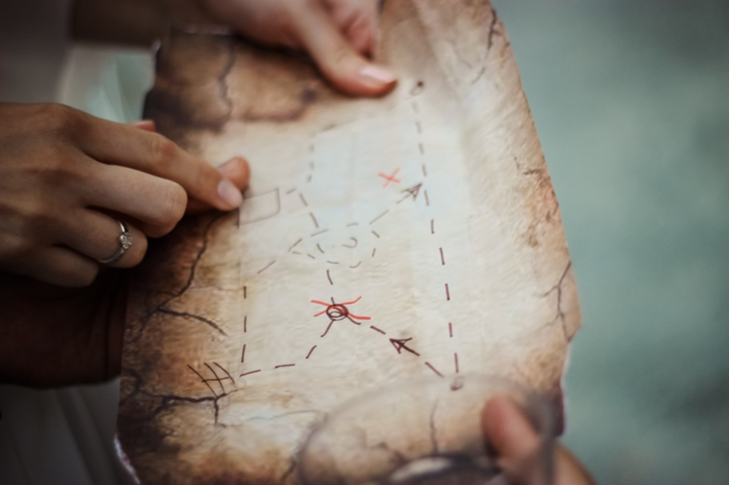 Offering Invitation
God, even in our wandering you have set a path before us and said – be not afraid! Remind us what it means to explore generosity with the same steadfast faith that you have shown us in throughout the ages. Let us give as you guide us. Amen.
Offertory 
Lord, Here Am I Beck/ Sikes
Kathy Ferguson, piano; Janet Tolman, organ
Lord's Prayer
Our Father,
Who art in heaven, hallowed be thy name.  Thy kingdom come, thy will be done, on earth as it is in heaven.  Give us this day our daily bread and forgive us our sins as we forgive those who sin against us, and lead us not into temptation, but deliver us from evil, for thine is the kingdom and the power and the glory forever.  Amen. 
Sending Hymn UMH 571 Go, Make of All Disciples (vs. 1, 3, and 4)
1. "Go, make of all disciples." We hear the call O Lord, that comes from thee, our Father, in thy eternal Word. Inspire our ways of learning through earnest, fervent prayers, and let our daily living reveal thee everywhere.
3. "Go, make of all disciples." We at thy feet would stay until each life's vocation accents thy holy way. We cultivate the nature God plants in every heart, revealing in our witness the master teacher's art.
4. "Go, make of all disciples." We welcome thy command. "Lo, I am with you always." We take thy guiding hand. The task looms large before us; we follow without fear, in heaven and earth thy power shall bring God's kingdom here.
Benediction 
May the Lord bless you and keep you, may the Lord make is his face to shine upon you and be gracious unto you, may the Lord lift up his countenance upon you and give you peace.  Amen. 
Postlude
How Majestic Is Your Name Smith/Bock
Kathy Ferguson, piano; Janet Tolman, organ
CVLI #03793174
CCLI #1239
3PerforMusic #662