Our fall stewardship season is upon us!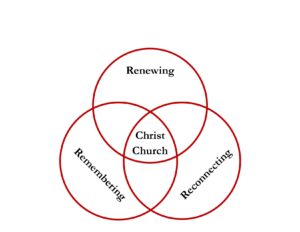 As we dream about what God will do with Christ Church United Methodist of Tucson in 2021 let us pledge our prayers, presence, gifts, service, and witness to one another.
Remembering, Reconnecting, Renewing Christ Church: You make ALL the difference.
This year our stewardship campaign looks a bit different than in the past. If you have not received your stewardship package in the mail by October 30th please contact us at 520-327-1116 or office@ccumtucson.org and make sure we have your correct address on file for you or your family and we will mail you a package and pre-stamped return envelop. You can also download the package below.
Please return your package to the church office by November 16th!
Christ Church United Methodist
Sunday Morning Stewardship Moments
Beginning Sunday October the 4th we are sharing stewardship messages during our invitation to offering, please visit our worship at home page to see messages from our various leaders about our different ministries and how your giving has an impact!
Stewardship Package
This year's stewardship package is so much more than just a pledge card! Our stewardship includes renewing our church membership records lost in September of 2020, and preparing to reconnect in person during this season of COVID-19. We hope you will help us remember, renew, and reconnect by returning all of these items by November 16
Did you know that if you are a use Amazon to shop Christ Church could receive a free donation from Amazon every time you place an order using Amazon smile? Click the link above and scroll down to the Amazon Smile link, look for Christ Church Methodist when signing up! It is free and safe for you and a huge benefit for us.
For more information on any of this
please call the church office at (520) 327-1116.