Worship at Home for Easter Sunday
Sunday, April 4, 2021
OL= Online service only, DI=Drive in service only
Welcome (OL)
Welcome to worship with Christ Church United Methodist in Tucson. I am pastor Beth and I am so glad you have joined us today for worship on this most important Sunday of the year, Resurrection (easter) Sunday, the day we celebrate God's conquest of death itself as God raised Jesus from the tomb after his crucifixion. If you are joining us for the first time, welcome! Please check out all the ways you can connect to the Christ Church community by going online to ccumtucson.org. Today we are celebrating communion, the meal that reminds us that every time we eat and drink we are participating in God's gift of grace which sustains our every need and in our tradition this meal is open to all people regardless of faith, belief, or membership – because God's table belongs and is open to all. Please take a moment to pause here and get something to eat and drink. Friends, Christ has risen indeed glory alleluia let us worship together.
Prelude
"Easter Hymn of Promise" arr. Joel Raney
Christ Church Ringers, The Chancel Choir, Piano, Organ (recorded 4/16/2017)
Greeting and Announcements (DI)
Call to Worship
One: Christ is Risen
All: He is Risen indeed!
One: Glory
All: alleluia!
One: God, our light, our beaty, our wholeness: in the resurrection of your Son,
All: you shake the foundations of the world and form us as a new creation.
One: We greet you here, in this moment
All: Unafraid, ready to bring the good news to all, You have redeemed the world, alleluia, amen.
Opening Hymn UMH #302 Christ the Lord Is Risen Today (vs. 1 & 2)
1. Christ the Lord is risen today, Alleluia!
Earth and heaven in chorus say, Alleluia!
Raise your joys and triumphs high, Alleluia!
Sing, ye heavens, and earth reply, Alleluia!
2. Love's redeeming work is done, Alleluia!
Fought the fight, the battle won, Alleluia!
Death in vain forbids him rise, Alleluia!
Christ has opened paradise, Alleluia!
Words and music in the public domain
Scripture Matthew 28:1-10 NRSV
Hymn of Preparation UMH #307 Christ Is Risen (vs. 1, 2, 3)
1 Christ is risen! Shout Hosanna! Celebrate this day of days.
Christ is risen! Hush in wonder; all creation is amazed.
In the desert all-surrounding, see, a spreading tree has grown.
Healing leaves of grace abounding bring a taste of love unknown.
2 Christ is risen! Raise your spirits from the caverns of despair.
Walk with gladness in the morning. See what love can do and dare.
Drink the wine of resurrection, not a servant, but a friend;
Jesus is our strong companion. Joy and peace shall never end.
3 Christ is risen! Earth and heaven nevermore shall be the same.
Break the bread of new creation where the world is still in pain.
Tell its grim, demonic chorus: "Christ is risen! Get you gone!"
God the First and Last is with us. Sing Hosanna everyone!
Words by Brian Wren © 1986 Hope Publishing Co.
Music: Polish Carol; arr. Edith M. G. Reed, 1926; harm. by Austin C. Lovelace, 1964 © 1965 by Abingdon Press
Reprinted with permission under CCLI License #12393. All rights reserved.
Message Holy Vessels: Holy, holey, wholly God's Recovered People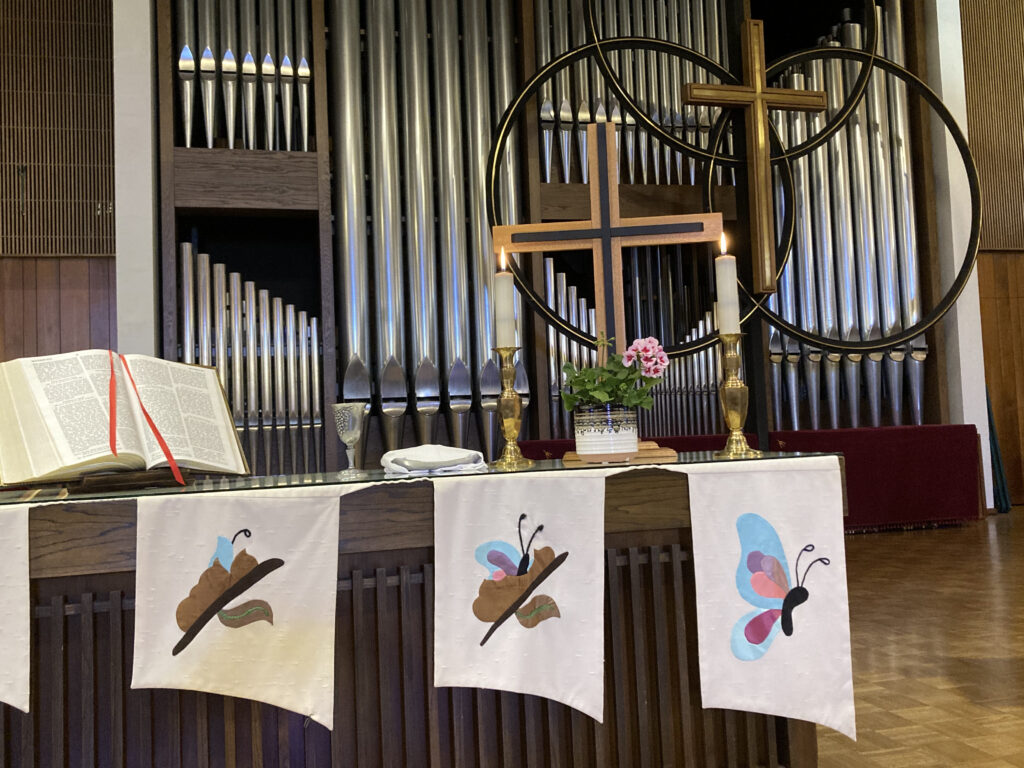 Invitation to Offering (OL)
Mighty God of Resurrection power: We so desperately need this "Alleluia!" morning! We have lived with death; trapped in our tombs so long, we could not be more anxious to hear your words "Do Not Be Afraid". We know in our hearts that your giving has brought us through this last year. As we give back to you this day, we do so convinced that light will always follow darkness, your wholeness will always recover what has been broken, and life will always defeat death! In the name of our risen Savior, we pray. Amen
Offertory (OL)
"Now the Green Blade Riseth" arr. K. McChesney
Christ Church Ringers (recorded 4/16/2017)
Communion
The Lord is among us.
The Lord is among indeed!
Sing Alleluia
Glory Alleluia, we give thanks and praise
It is right and a good and joyful thing always and everywhere to give thanks to you Creating Loving God! In every age, you have formed and reformed us in your image, blessing us and calling us to be a blessing to the world. Even when we betray, abandon, and hide in fear, you forgive, stay, and seek us with grace, so that we might be whole and part of your holy work of redemption. And so, with your people on earth and all the company of heaven we praise your name and join the unending hymn
Holy, holy, holy Lord, God of power and might,
heaven and earth are full of your glory. Hosanna in the highest.
Blessed is he who comes in the name of the Lord. Hosanna in the highest.
What we do here, we do in imitation of what Christ did first among us. He called his community together, his friends, his family, and took the food and drink they had at hand reminding us that everything we have comes first from you, God. He gave thanks over the meal, reminding his community to be in service to each other, to love and forgive, and taking the bread he broke it and offered it to his disciples saying "This is my body. It is broken for you, eat and remember me." And he took the cup and offered it to all saying, "this is the new relationship with God, my love and life poured out for each, so that any who drink in remembrance of me might experience God's redeeming wholeness."
And so, in remembrance of these your healing acts in Jesus Christ, we offer ourselves in praise and thanksgiving as a holy and living sacrifice, in union with Christ's offering for us, as we proclaim the mystery of faith.
Christ has died, Christ is risen; Christ will come again.
We receive your Holy Spirit in this act of fellowship and grace, knowing that by these gifts of food and drink we are forgiven and sustained. Make us one with Jesus our teacher, one with each other, and one in ministry to all the world, so that your victory known here in the resurrection, might be known one day by all throughout the world.
Through your Son Jesus Christ, with the Holy Spirit as your Holy Church, all honor and glory is yours, almighty God, now and forever. Amen.
Communion Hymn (OL) UMH #177 He Is Lord (2x)
He is Lord, he is Lord!
He is risen from the dead and he is Lord!
Every knee shall bow, every tongue confess
that Jesus Christ is Lord.
Words from Philippians 2:9-11
Music: Trad.; arr. by Tom Fettke, 1986 © 1986 Curb Wordspring Music (Admin. by W.C.M. Music Corp.)
Reprinted with permission under CCLI License #12393. All rights reserved.
Lord's Prayer
Our Father, who art in heaven, hallowed be thy name.  Thy kingdom come, thy will be done, on earth as it is in heaven.  Give us this day our daily bread and forgive us our trespasses as we forgive those who trespass against us, and lead us not into temptation, but deliver us from evil, for thine is the kingdom and the power and the glory forever.   Amen. 
Closing Hymn UMH #318 Christ Is Alive (vs. 1 & 5)
1 Christ is alive! Let Christians sing.
His cross stands empty to the sky.
Let streets and homes with praises ring.
His love in death shall never die.
5 Christ is alive, and comes to bring
good news to this and every age,
till earth and all creation ring
with joy, with justice, love, and praise.
Music in the public domain
Words by Brian Wren, 1968, alt. © 1975 Hope Publishing Co.
Reprinted with permission under CCLI License #12393. All rights reserved.
May the healing power of God, which raised Jesus to new life holy, holey, wholly recover us each so that we might go forth from here as God's new creation alive in this world, as Christ is God's new creation alive in us. Glory Alleluia, Amen.
Postlude
"Toccata" (from "Symphony No. 5") C.M. Widor
CCLI #12393
ONE LICENSE A-738133
CVLI #03793174
PerformMusic #662