Workshop and Concert by

Carrie Newcomer
Friday, January 19, 2018
10:00 a.m. – 12:30 p.m. Our Lives as Sacred Story and Community Songwriting
In this workshop, Carrie Newcomer invites participants to explore the depth and value of our own stories. When we frame our individual and community stories through a spiritual lens, it changes how we see ourselves and the world. This class explores paying attention and honoring our daily experiences. Carrie will use conversation, exploratory writing, music, group and individual experiences. This workshop has been developed to be very safe and encouraging. It welcomes all, including those who have previous experience in writing, songwriting or creative expression, as well as those who are interested in exploring new ways to tell their own personal and spiritual story.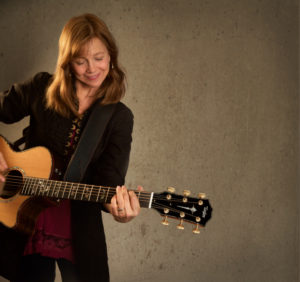 Photo Credit: Jim McGuire
7:00 p.m. – 10:00 p.m. An Evening with Carrie Newcomer and Gary Walters
Enjoy a performance that includes songs from Carrie Newcomer's latest album, The Beautiful Not Yet. In these songs, Newcomer continues and expands her inquiry into how life's deepest questions present themselves in our daily lives. Listeners are invited to live a more present, engaged life, even in the face of division, uncertainty or heartbreak.
Tickets are $25 each for the workshop and concert or $40 for both. You may purchase them online by clicking here or on the button below.